Direct Phone Domination Option:
I am now accepting:
Direct Call / Text Chat / Skype Chat:
Phone Domination,
Fetish Calls,
Roleplay Calls and
Alternative Lifestyle Chit Calls.
All of these Sessions are billed descreetly.
Not a 3rd Party Phone Center or Platform Venue.
Click on the Graphics below to be taken to the information pages you need as well as to payment pages if you prefer to enter your own credit card details.
For First Time Direct Callers
Click the graphic right below here:
For Return Callers:
For My Return Text Chatters:
Look below here,
do I show as available?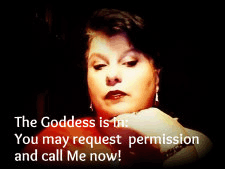 (If you do NOT follow the directions I have given on the details page, I may not answer the phone even if I show as available. So go READ first!)
TalktoMe Platform
TalktoMe is a Phonesex Platform where Independent Contractors offer their services in their Categories, Interests and enjoyments to you.
Please always read WHAT each person has to offer.
I am available for:
Phone Sessions,
Live Webchat Sessions,
Email Chat Sessions
on TalktoMe via these LISTINGS below:
Mature BBW Momma Bella
Profile #963789
For Diaper Fetish Boys, Adult Babies (boy, girl or gurl), Sissies who need a strict but caring Momma Domme to control them, Momma's Boys who know that they'd be lost without their Mommy Dearest, and other submissive men who are looking for a strict but caring older Disciplinarian / Maternal type Domme.
You may call me on this listing:
Your Relationship Lifecoach!
Profile #383778
For Fetish Discussions and Chit Chat, Femdom Advice and Female Domination / male submission or cuckolding topics you may call me on this listing:
Satanic Goddess Bella Donna
Profile #940991
I am the woman you'd never suspect will be your downfall and doom.
Deceptively sweet, with a wickedly kind voice, and an addicting joyous laugh that will make you fall in love with this Devil Woman.
I am Satan in the Female Form.
I am the Sinstress who enables your naughty desires, deepens them with loving encouraging words.
I become the satanic Mother Superior to whom you confess your sins. Like a dark Mother and Goddess I teach you the pleasures of the flesh and point out the foolishness of religious dogma.
In due time I become your only true God/dess for whom you'll sacrifice everything. Remember my pets, mine is the real of deception. Don't come here expecting to talk to someone who sounds deranged and demonic. Satan lures you with kindness, not chases you away with fear. Haha.
Religious Fetish, Blaspheme, Erotic Puppeteer, Sin Encouragement, Religious Humiliation, Sinduction, Goddess Worship, JOI with prayer, and more
Note: Dear Sinners, know what it is you want before coming to this listing. Silly boys with no clue what this fetish is about will be turned into Toads. "Just kidding" ...maybe
You may also utilize Niteflirt as your Fetish / Femdom Phone Platform of choice with me. Don't confuse the two Platforms however. TalktoMe and Niteflirt have different TOS regulations. I take LIVE Calls, Sell some fetish content and offer PayPerView Email Conversations via Niteflirt via the Listings below:
Strict Sissy Enslavement and Conditioning!
1-800-863-5478
ext: 9473405

*********************
✸ ✠ Hardcore German Discipline!! ✠ ✸
1-800-863-5478
ext: 11147974

*********************
✹ Strict Mistress for female slaves & faggot boys✹
1-800-863-5478
ext: 11220174

Subscribe to Blog via Email
Good boy / sissy Birthday Tribute Thank you clip
Buy this Clip like a Good boy / sissy
Only good boys and sissies deserve to hear Me praise them!
April 8th is My 47 th Birthday and this is My Thank you to good boys or sissies who are purchasing this clip.
Spoil Me as you should doves.
Price: $49.99 USD
Length: 2 minutes
Size: 63 MB
Format: WMV
Resolution: 854×480
Added: 4/7/17 12:09am
or buy it on Niteflirt for the same amount:
$49.99
Related